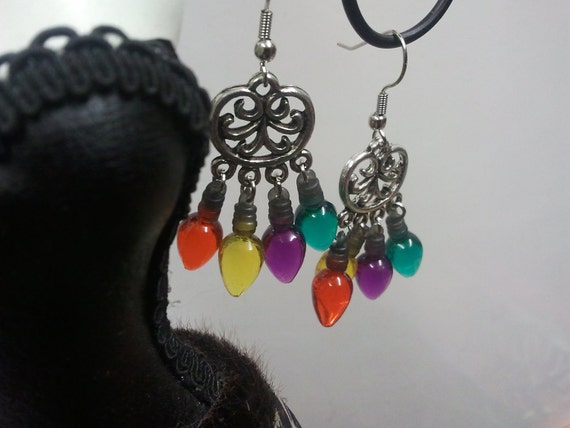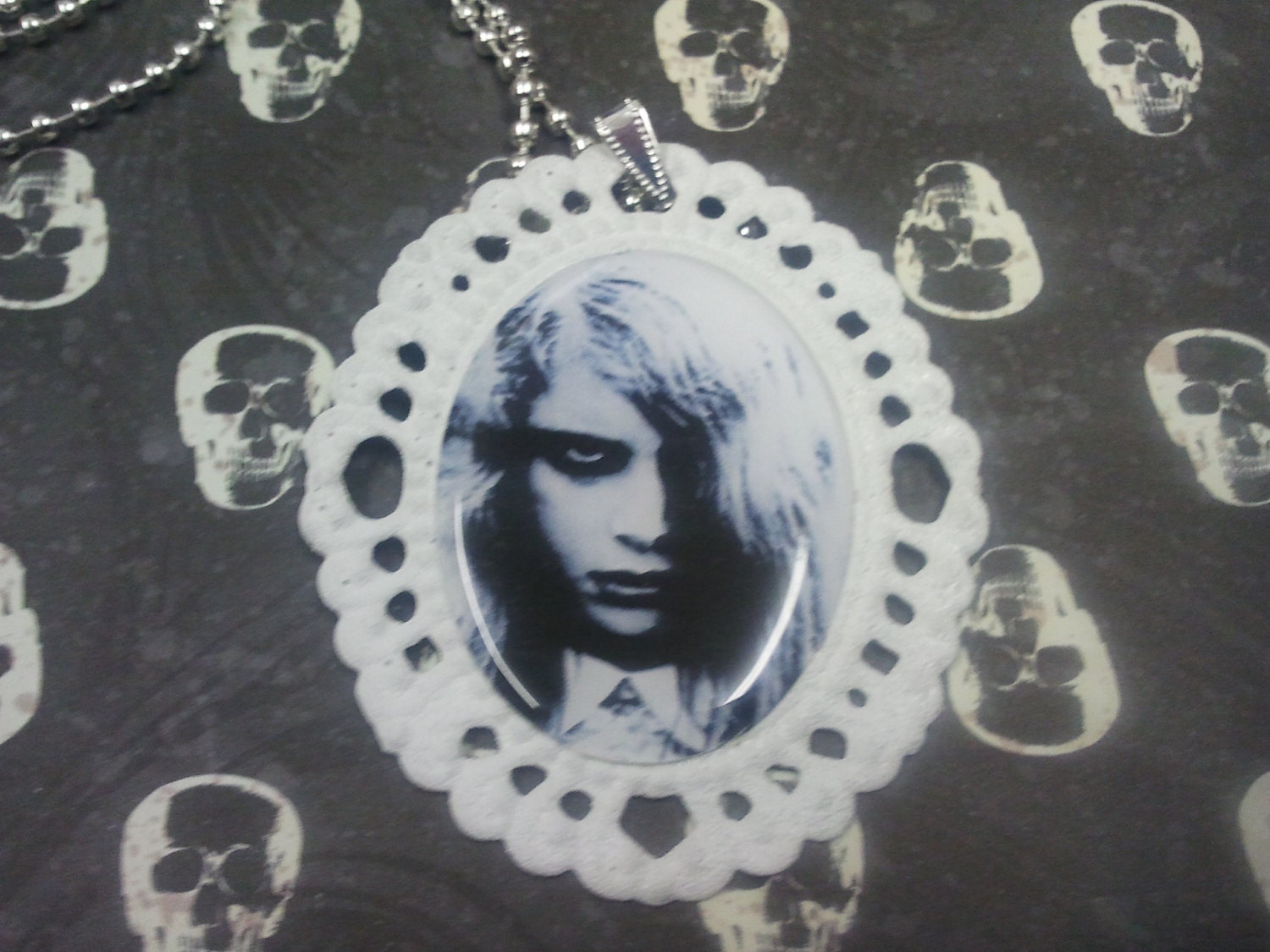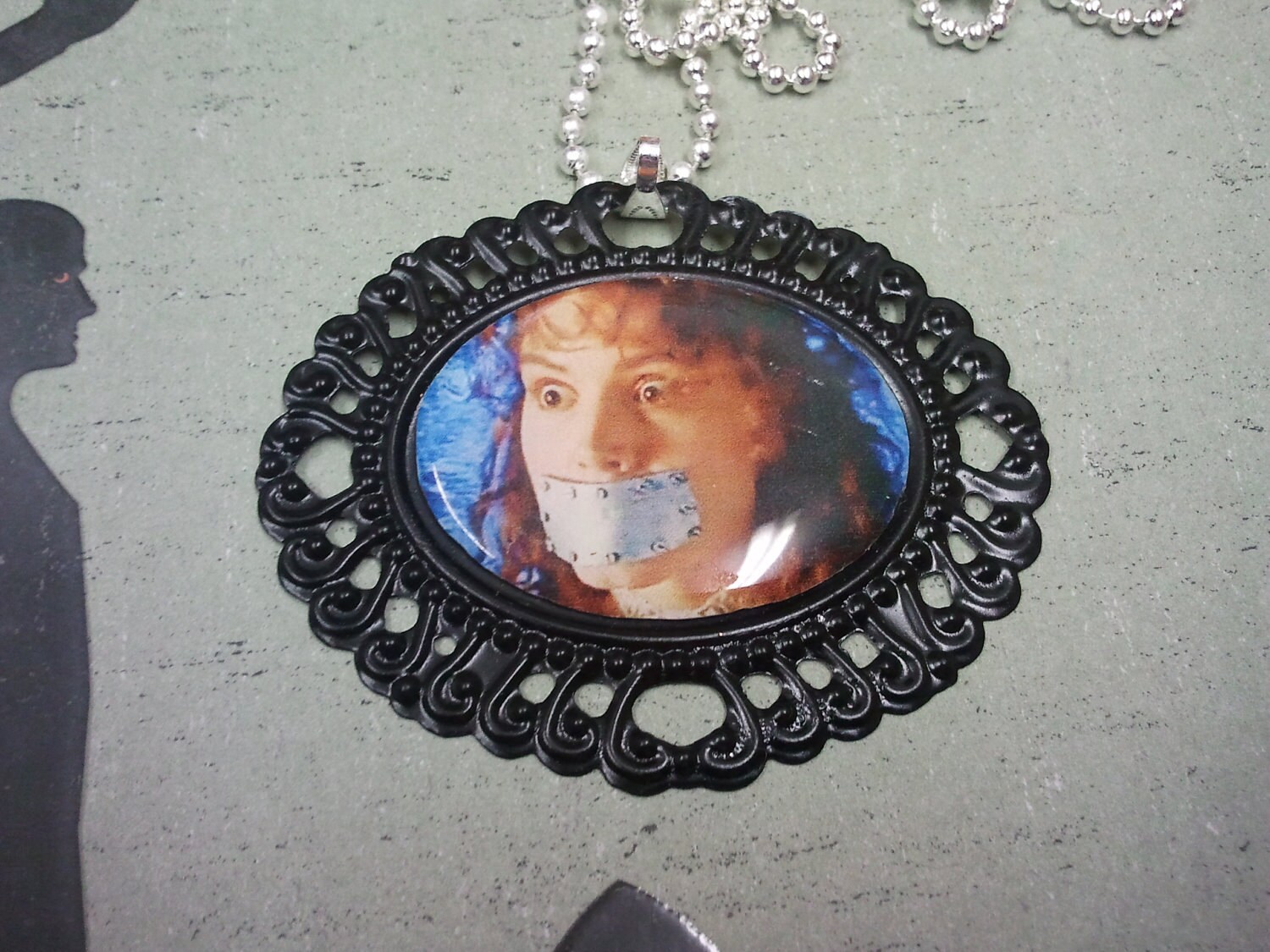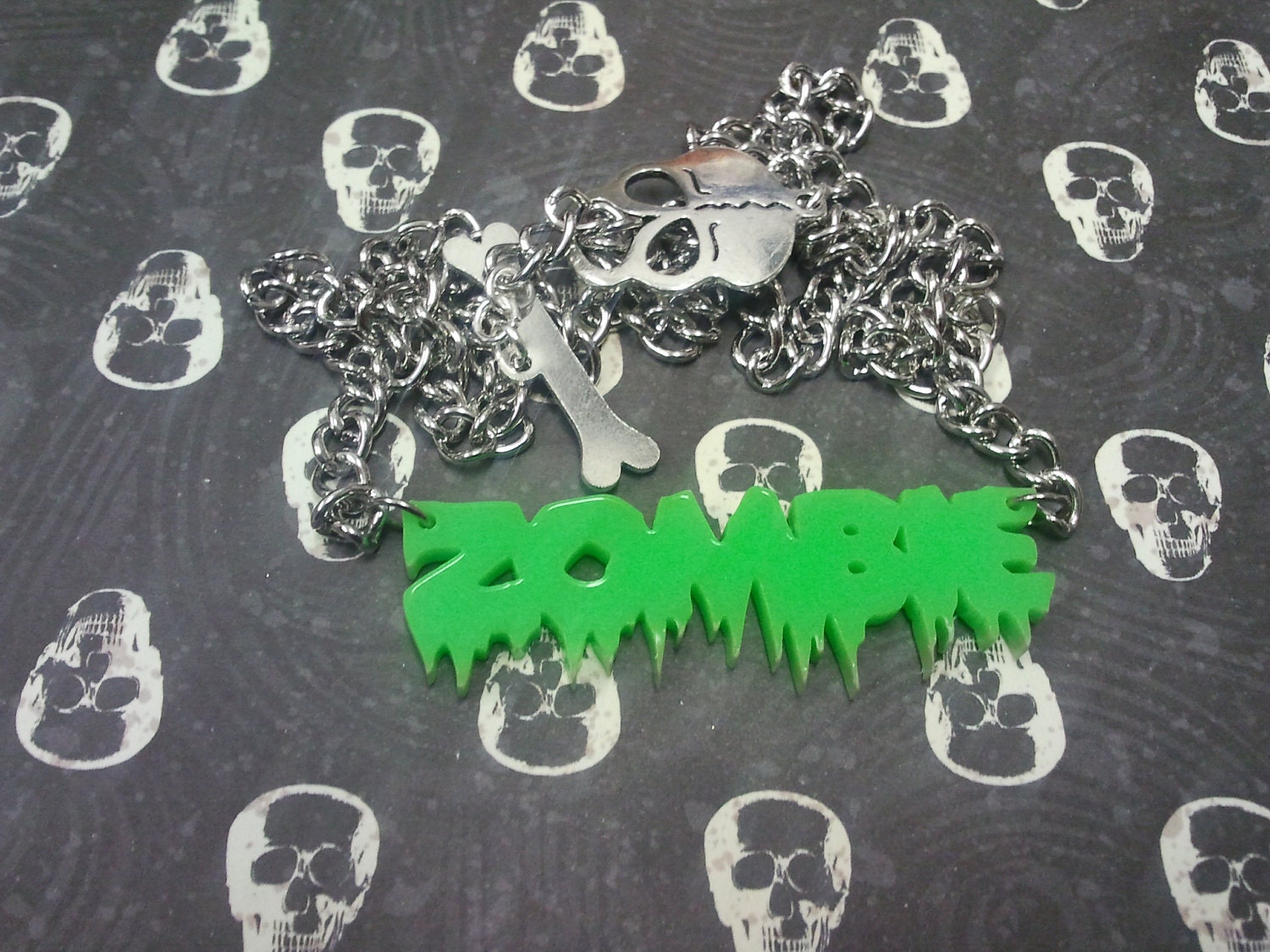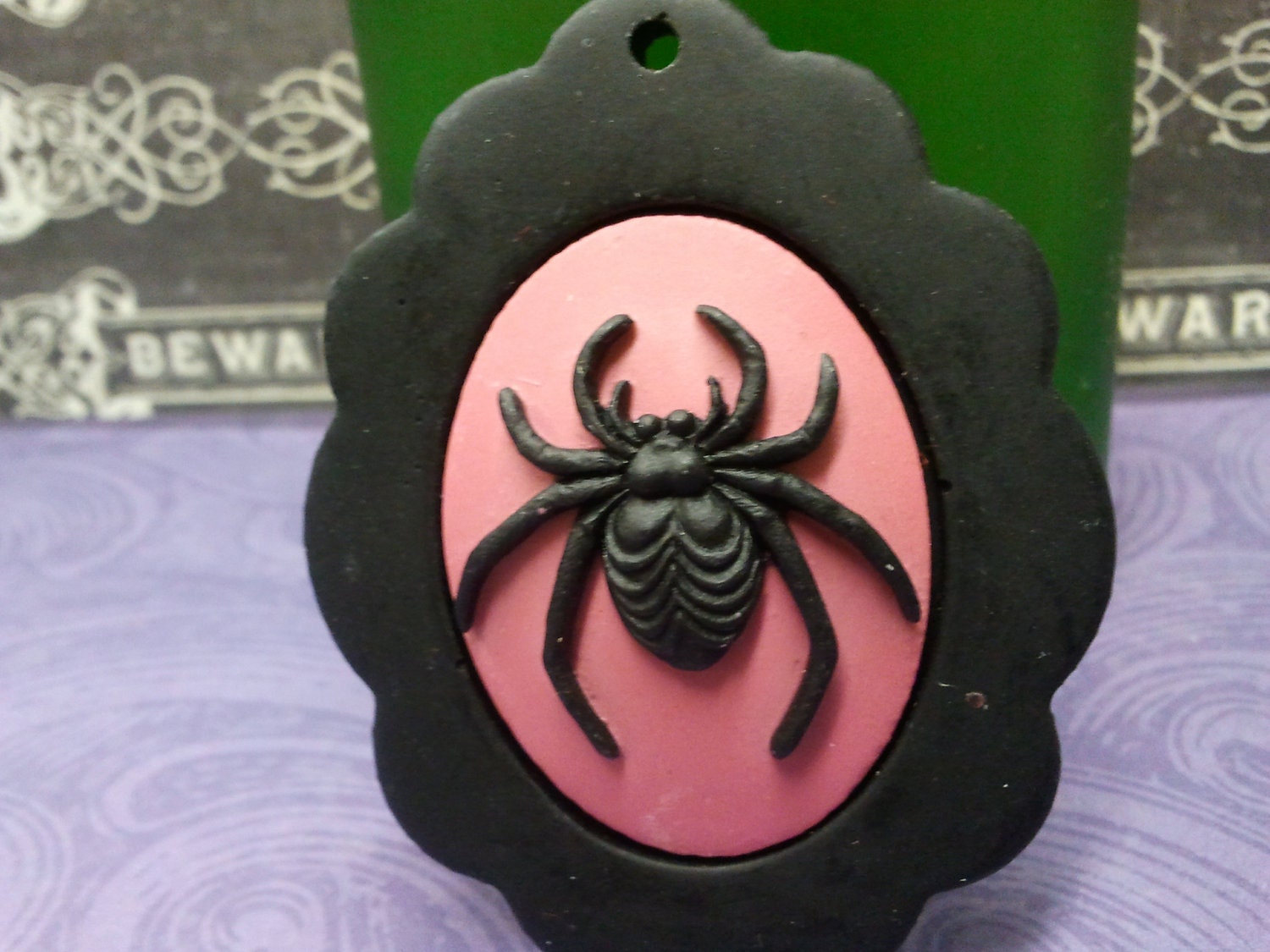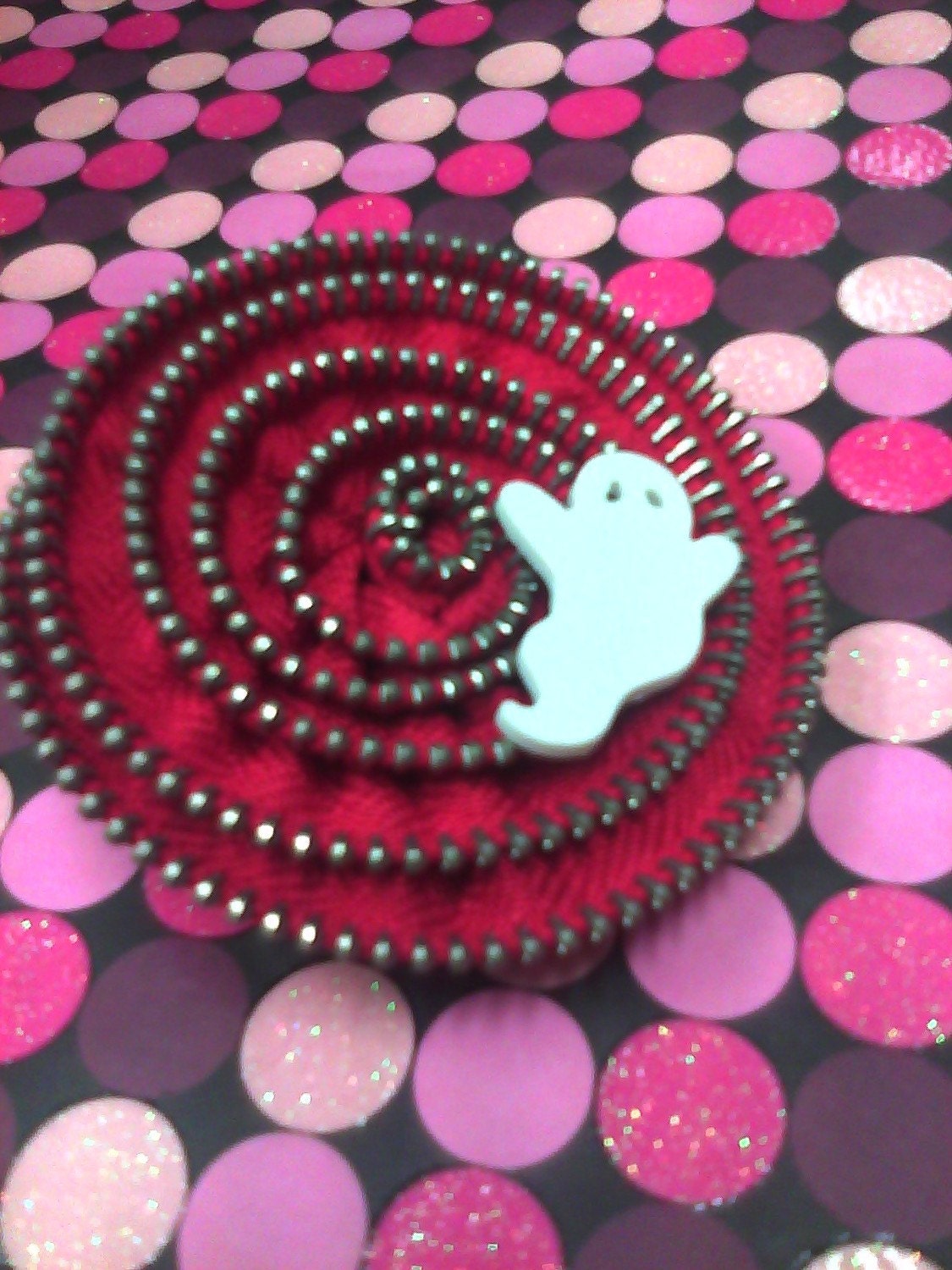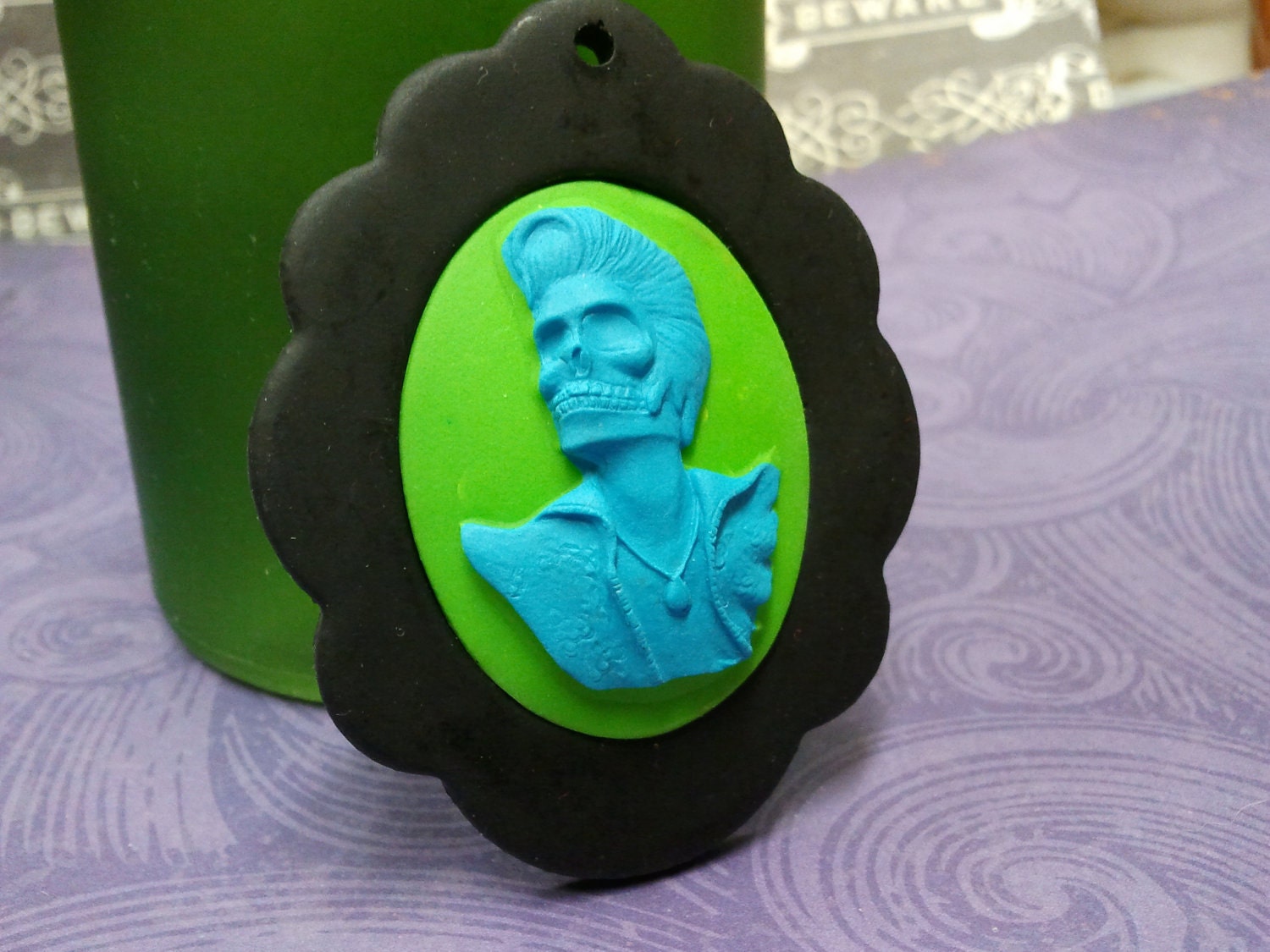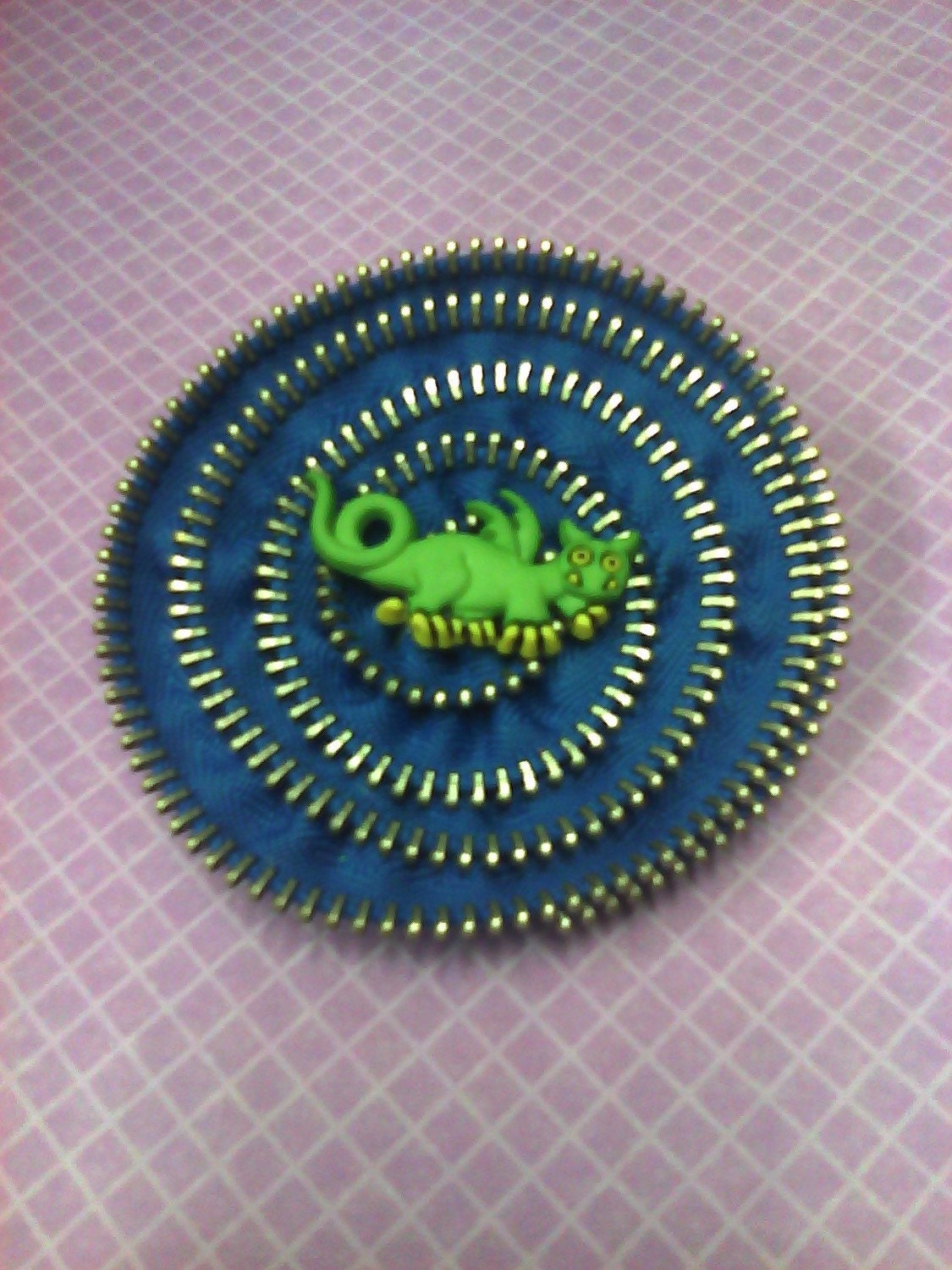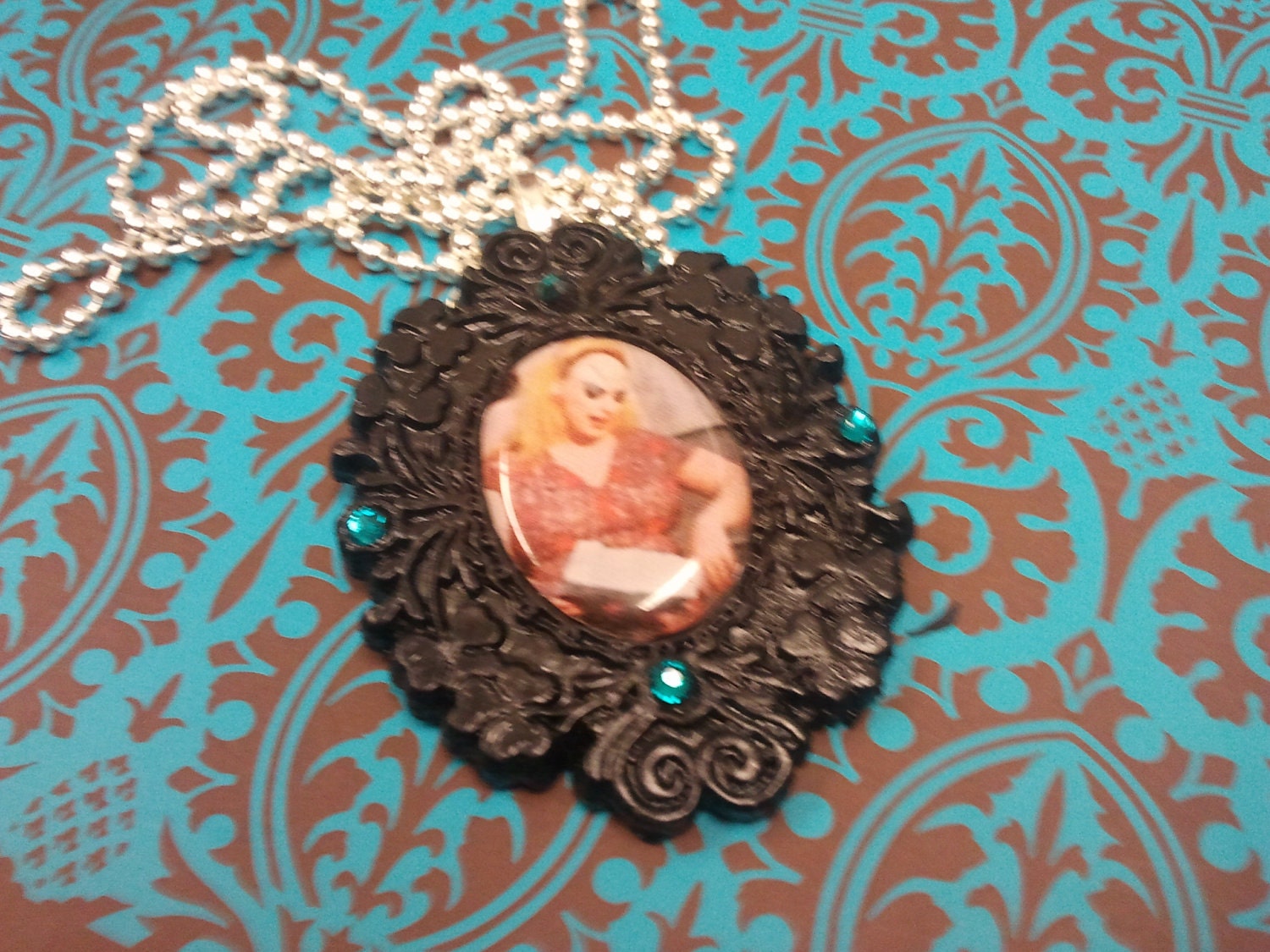 - how you selected your name
When I was picking my shops name I already knew what kind of items I was going to sell. I knew that I was going to focus on accessories for women that like horror movies and items that are sweet and twisted. When I say sweet and twisted I am referring to items that are cute, but edgy at the same time. For instance, I like to make flowers that are hair clips, but their centers are eye balls or skulls. Knowing that I would be making items like this I wanted a sweet and twisted name as well and I came up with A Ghouls Best Friend.
- describe your studio
My studio is technically in a small room that I call my closet. I know that sounds strange. I am currently living in a basement with my four pets (2 dogs and 2 cats) and my husband (we just got married this past Halloween!) We have a small room that holds our dressers, bookcases, a mini fridge, and my crafting areas. I have a counter, a large table, a cabinet of drawers filled with supplies, and boxes upon boxes of finished items and even more supplies! Since the closet is rather small, I try to keep everything as organized as possible, so naturally everything is labeled like some crazy lady with OCD took over. Now, even though I have my supplies in this room, I tend to take whatever I am working on into my living room and I create at a table where I can feed my Netflix addiction. I can't work without background noise and Netflix + Xbox Live = Amazing background noise!
My husband and I are currently house hunting and trust me, craft room and man cave are at the top of our must have list!
- talk about your work
On top of my Etsy shop, I currently work full time at a book store. I don't want to name names, but I can sell you a Nook like it's my job.... oh wait.....
- educational background within your work?
I went to college at Villa Julie College (now known as Stevenson University) and graduated in 2007 with a BS in Human Services (counseling and socail work). I only took the once required art credit, but grew up in a family of crafty people. I come from a family filled with quilters, sewers, jewelry makers, and wood carvers. Maybe I was born with the crafty gene because it didn't come from all of those family and psychology classes I took.
- where you sell, why do you sell there?
I sell primarily on Etsy. However, I also have two shops in Hampden that carry my items year round. One is called Kiss N Make-Up and the other is called In the Details. Both are located on the Avenue. I also like to vend on First Fridays at a salon in Ellicott City called Ohh Lalal Salon and at Sonar for their Sunday Flea Market. There is also a shop in Provincetown, RI called House of La Rue that also carries my Divine necklaces as well. On top of this I like to attend burlesque festivals and earlier this year vended at The Jim Thorpe Burlesque Festival and will most likely vend there in the early spring of 2012.
What can I say, I like to stay busy. I love selling on-line because it helps me reach a larger audience that goes beyond my own backyard. I had a lady in Australia that bought a large amount of my hair clips and brooches for a fashion show featuring her own designs. She had her models wear my items during the show and let them keep them as a form of payment. My shop was given a huge shout out and in return I now have a few sales every month from Australia. If I didn't have an on-line shop, this may have never happened.
I love selling at local stores because I can give the small shops in the area whole sale prices and in return I get more requests for custom items, more whole sale orders, and I am helping out local businesses make money in rough times. One of the shops that carries my items has had great success with selling the earrings and necklaces I make that have Natty Boh and Divine on them.
I also like vending at festivals and events because even if I don't make a killing on sales, I am still getting my name out there and self promotion can really go a long way.
- what you are doing now, where do you want to take this business
I have just hit my 1 year mark on being a seller on Etsy and have hit over 150 sales. This is amazing to me because I know some shops that have been open for a year that barely hit 20, let alone over 100. Right now I am working on new items for the holidays to help open my shop to a newer audience that may have overlooked my shop before. Not everything I make is horror movie related despite my shops name. In a dream world I would love to solely get my income from Etsy and be able to quit my day job, but with looking for a house to buy and not rent, I don't see quitting my job as a wise financial decision.
- obstacles you have faced
Most of what I make has not been taught to me. I learned how to make certain things through trial and error. Also, working a full time job five days a week has made me learn to get better with managing my time to accommodate time for friends, family, craft shows, my pets, and life in general.
- good things that have happened
I have had so many wonderful things happen in the past year that it is hard to pick just one or even a few. However, I do owe all of these good things that have happened to something I learned. One of the best things that could have happened was learning the value of self promotion. I think I owe a lot of my success to my shameless self promoting. I have a Facebook fan page for my shop, a Twitter account, a Blogspot account mainly geared towards my shop, and I made an investment in business cards, bumper stickers, and signs for events. I also joined Etsy Teams to help myself out. If I hadn't pushed myself to use these networks I may not have been as successful.
- bad things that have happened, what did you learn from them
I have found that sometimes I get over worked and need some me time. I also have found that from time to time I will get in a slump and will need motivation to craft on. When I started making accessories I had no intention of selling my items, I was just making them for myself and friends. It was a hobby and a stress relief. To keep myself from thinking of crafting as work I think about when I first started making items and why I enjoy doing this so much. To keep a positive attitude and not make crafting into work I take breaks from it to do chores. This way I am actually doing boring work and I am even more eager to get back to crafting.


- other/extra stuff- Contact information
E-mail:
aghoulsbestfriend@gmail.com
Shop:
http://www.etsy.com/shop/AGhoulsBestFriend
Facebook Page:
http://www.facebook.com/pages/AGhoulsBestFriend/189743867729882
Twitter: @Aghoulsbestfrnd
Blog:
http://aghoulsbestfriend.blogspot.com/